Our own Ibiza Regatta app is supporting our participants long before, during and after the regatta.
It is set up primarily to communicate between the race committee and the teams and their crew.
During the Ibiza Regatta itself the races can be viewed live through the App and via our website (live tracking).
You can even order your cold beverages through the App. They are to be served direct after you finish.
– APP FEATURES –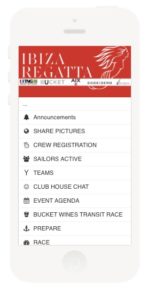 The following main functionalities are on board:
– chat functionality between participants, teams and organization (official notice board)
– information archive of wheather, waters, ibiza and racing rules
– club house chat
– a program description
– information of Ibiza and the regatta
– merchandise ordering
– track and trace
– Ibiza Regatta Lounge Radio
– partner promotion
[The main advantage is that the safety of the fleet is raised to a modern standard. This is done digital communication at sea and overview of the fleets position].
Below a short videopresentation of our Ibiza Regatta App in cooperation with Superevent.